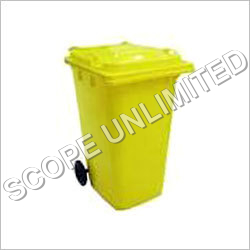 240l Wheeled Containers
Product Description
We have been supplying high quality 240l Wheeled Containers that require negligible maintenance. 240l Wheeled Containers is specially designed for our most valuable customers in such a way that they are highly durable and maintenance free. It is high on demand in catering to the need of our domestic and international clientele. We also ensure that appropriate quality testing parameters are used in each step of the production cycle which guarantees the error free make of our product range.

TECHNICAL SPECIFICATIONS
The Bins shall conform to following specifications
General
The manufacturing process shall be Injection Molding
Marking : Each Bin complying with the requirements with EN 840-1 Standard, shall be duly marked with the following details
The reference of this EN Standard
The nominal volume
Technical
The Bins shall be made from High Density Polyethylene (HDPE) Injection Molding process.
HDPE

Environment-friendly
Long service life
Suitable for recycling
Frost-resistant
Resistant to chemicals
High resistance to UV radiation

The material shall be heat and chemical resistant and shall be UV stabilized.
The manufacturing process shall be Injection molding only as specified by EN 840-1 standard.
The bins shall have suitable lid of HDPE Injection Molded at the top which shall be hinged on one side and open easily by gravity while unloading in refuse compactors.
The bins shall have Nominal volume of 240 Ltrs.
The bins shall have Two Solid rubber wheels of 200 mm Dia. (+-5 mm). Both these wheels shall be mounted on axle, which shall be corrosion resistant.
The bins shall be provided with single piece pulling handle.
The bins shall have deep and strong combs as per EN Standards. These combs shall ensure optimum accommodation on the lifting devices i.e. Refuse Compactors with Universal Bin Lifting mechanism.
The useful load shall be min. 110 Kgs. As per EN standard.
The color of the bins shall be Green/Blue/Grey/Yellow/Red and aesthetically pleasant in nature.
Measurement specifications
Nominal Volume (L): 240
Dead weight approx. (kg): 14.3
Useful load (kg): 110
Overall height (mm): 1080
Overall width (mm): 580
Overall depth (mm): 730
Wheel diameter (mm): 200
Contact Us
G-72, Sector-6, Noida, Uttar Pradesh, 201301, India
Phone :+918037402677